Sagrada Biblia Familiar
(Spanish Family Bible)
Generation after generation of families have come to know and cherish the Spanish language editions of the "World's Most Beautiful Bible" published by Stampley Enterprises. Today we offer five different editions, each with the clasic Torres-Amat text. With unsurpassed quality and content, these elegant Bibles are offered exclusively for distribution through direct sales channels.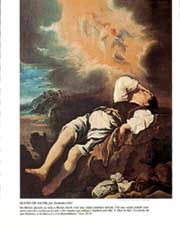 Gilded page edges, embossed cushioned covers and more than 170 full color illustrations, including reproductions of old masters art, are among the many features of the Stampley Bible. Each of these Bibles uses Stampley's famous "side-sewn" binding method – a method specially designed to preserve Stampley Bibles as treasured family heirlooms for generations. All of these editions include a generous 16 page Family Record section on special Parchtex paper where notable family events may be recorded.
There is no Bible more complete, more beautiful and more beloved than Stampley's deluxe Spanish Catholic family Bible. Stampley's Spanish Bibles are treasured heirlooms in hundreds of thousands of Spanish speaking homes, making them the best selling family Bibles in the hispanic world today.
These deluxe family Bibles are available in a variety of bindings. Our classic code 2010 in black is the most widely distributed Spanish Catholic family Bible ever. We also offer the code 2011 in ivory, and the code 2030 edition in brown, with Michelangelo's Pietá featured on the cover.
Our code 2300 "Last Supper Edition" comes in ivory. Within the USA this edition is distributed only through affiliates of the Seventh Day Adventist Church.
Finally, we offer a special edition bound in burgundy bonded leather with two marker ribbons. Stampley Bible code 2032 is a beautiful, deluxe family Bible with an image of our Lady of Guadalupe on the cover. If you are considering a Spanish Catholic family Bible for direct sales, you should choose the best, most proven family Bible in the market: the Stampley Bible.

NEXT>> Spanish Family Bibles>> Latinomérica text

Return to English menu