EXPLORA Y APRENDE
(Explore and Learn)

When it comes to learning about the world around us, no name is more respected than that of the National Geographic Society. In Explora y Aprende, Stampley Enterprises teams up with National Geographic to produce an 8-volume reference series in Spanish with captivating photos and clear, engaging text. Each individual volume helps students to discover the wonders of the world around them.
Designed especially for readers ages 10-16, Explora y Aprende makes learning about subjects such as physics, geology, astronomy and biology exciting and fun. Volumes are available individually or in two separate sets of 4 volumes. Each set is packaged in a handsome, full color slipcase.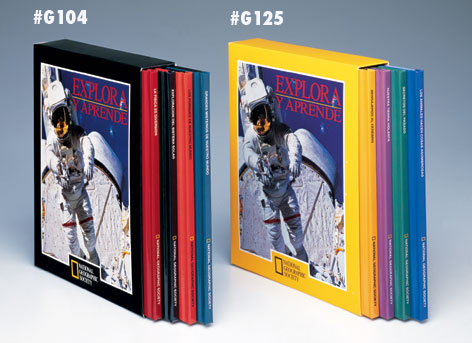 Thousands of teachers, librarians and parents have found Explora y Aprende a valuable resource for enhancing a child's education in the sciences. The office of the Secretary of Education of México has repeatedly selected volumes from the series for distribution throughout the Mexican school system. Now more than ever, Explore y Aprende is a perfect fit for direct sales, school book fairs, catalogs, retail promotions, and marketing programs to schools and libraries.
NEXT>>El Método Bowdoin>>Parenting Guides in Spanish

Return to English menu